We know you can cook up a storm in the mega kitchen and we bet you've got a few incredible recipes up your sleeves too. We'd love to know your favourites but there are a few more recipes here for you to try out. These epic meals you can cook in the mega kitchen are incredibly tasty, simple to cook, and we bet you'll cook them again and again for you and your friends while you're living at IconInc.
Pumpkin and Sage Risotto
4 Servings | 50 minutes cooking time
With a few simple ingredients, you can make this epic meal that will impress your friends and make you feel like the next Jamie Oliver.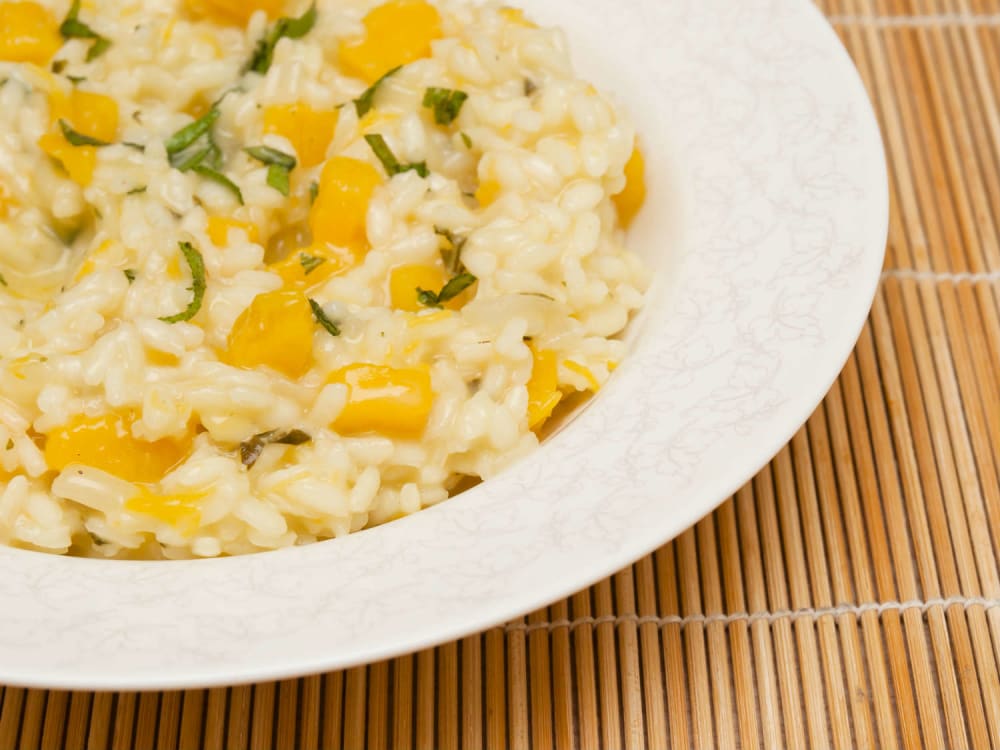 Ingredients
800g pumpkin that has been peeled, seeded and cut into small chunks.
750ml water
1 ½ teaspoons of vegetable stock
1 tablespoon of olive oil
1 onion, finely chopped
2 crushed garlic cloves
1 tablespoon of chopped fresh sage
250g Arborio rice
160ml white wine
75g baby spinach leaves
45g toasted pine nuts
50g crumbled feta cheese
20g parmesan cheese
Method
Preheat the mega kitchen oven to 200 degrees celcius. Spread the pumpkin chunks on a baking tray and drizzle with olive oil and season with pepper. Roast for 25 minutes in the oven.
While the pumpkin is roasting, place water and the vegetable stock in a saucepan and bring to the boil over a high heat. Once the stock is boiling, reduce the heat and let the stock gently simmer.
Heat some more olive oil in the pan and stir in the chopped onion until it is soft, this should take about 5 minutes. Add in the crushed garlic and chopped sage and stir for one minute, or until you can smell the ingredients.
Add in rice and stir until they are coated in olive oil and have a shine to them. This should take about one minute.  Add in the wine and stir the ingredients until the liquid has reduced by half.
Add 125ml of vegetable stock to the rice and stir the mixture until the liquid has soaked in to the rice. Repeat this process until you have no liquid left. This should take about 20 minutes and the rice should be tender and the risotto creamy.
Add in the pumpkin, stir in the spinach, pine nuts and feta and serve with a sprinkling of parmesan cheese.
Top Tip: If you don't want to include wine, replace the wine with more vegetable stock.
Sticky Pork and Mangetout Stir Fry
2 servings | 20 minutes cooking time
You know that great wok burner you have in the mega kitchen? Well this is one amazing dish you can make using that and it's super quick to prepare too!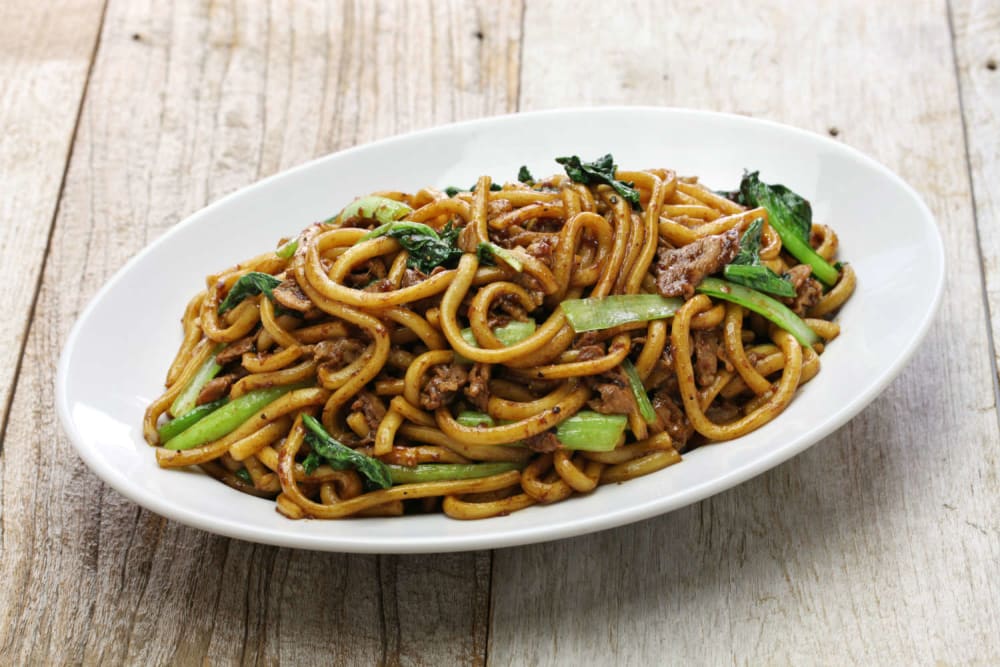 Ingredients
100g dried egg noodles
300g sliced pork escalopes
1tsp cornflour
1 tbsp oil frying
4 shredded spring onions
100g mangetout, halved lengthways
Juice of 1 lemon
1 tbsp honey
1 tbsp soy sauce
2 tbsp Asian chilli sauce
1 tbsp water
Method
Cook the noodles for around 4 minutes in boiling water and drain well.
Coat the sliced pork with corn flour by tossing in a pan and add salt and pepper seasoning as you wish.
Heat the oil in a wok and stir fry the pork for 2 minutes before removing from the pan.
Add the mangetout to the pan and 2/3 of the spring onions and toss in the wok for a couple of minutes.
Add in the pork, lemon juice, honey, soy sauce and chilli sauce along with the water and bubble until a sauce is created.
Stir in the noodles and heat through. When you serve, sprinkle on the remaining spring onions for a dish you'll want to devour again and again.
Top Tip: Swap the mangetout for other green vegetables such as runner beans or broccoli. This dish is a great way to use left over veg so don't be afraid to mix it up!
Broccoli Cheddar Brunch Bake
4 servings | 1 hour to cook
On a weekend, if you have a bit of time to prepare an epic brunch, get in the ingredients for this meal and you'll be set for the day.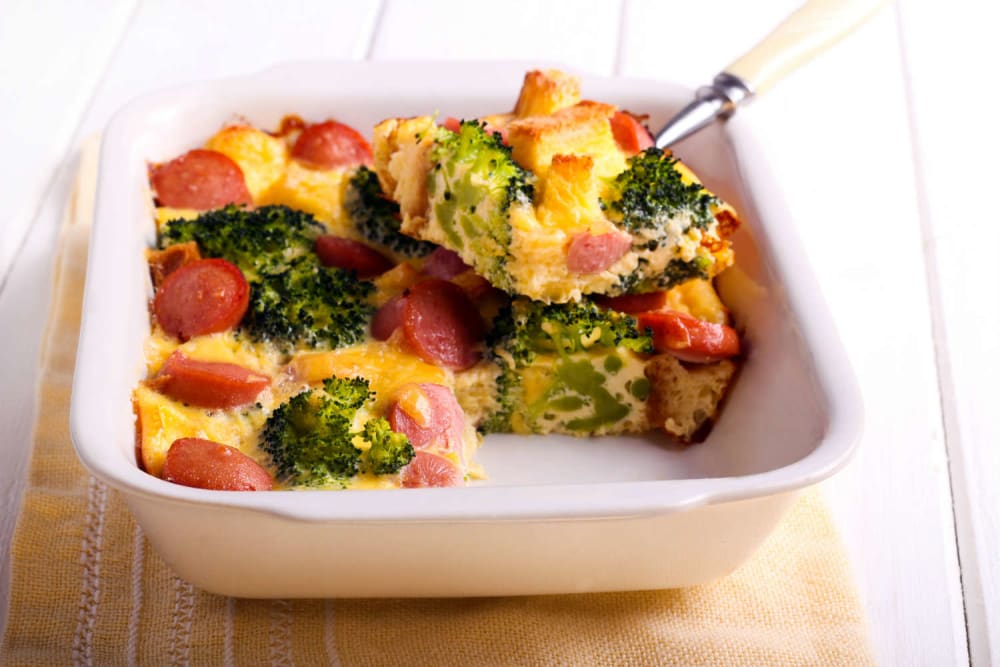 Ingredients
12 whisked eggs
A pinch of salt
1 tsp pepper
½ diced onion
½ cup of grated cheddar cheese
1 cup of halved cherry tomatoes
1 head of a small broccoli
1tsp oil
Method
Preheat the oven to 160 degrees celcius
Whisk the 12 eggs with salt and pepper and add in the onion and cheese. Stir gently until combined.
Oil a baking dish and add the tomatoes, broccoli and egg.
Bake this for 30 – 45 minutes or until you see that the eggs have set.
Dish up between you and your friends for an epic brunch.
Top Tip: Add in sausage for a really hearty breakfast.
Do you have any epic meals to cook in the mega kitchen? Let us know as we'd love to know the recipe!